A horror story that takes place in the Japan countryside, which includes a visit from an unexpected ghostly guest: a yuurei (幽霊). These Japanese ghosts are known for having unfinished business when haunting in the earthly plane.
I had been living in the Japan countryside for nearly three months. Instead of staying in a traditional apartment, I was able to rent a small home in an area where neighbors were scattered somewhat far apart. Each night I slept very well, but one night I had an unexpected presence visit me.
I could sense him at the foot of my bed. A Yuurei; a human ghost walking the Earth had entered my home. I used to be afraid of ghosts, but there was something about Japan that made spirits almost seem second nature to me. The Yuurei spoke to me in Japanese.
"What would you wish of me?"


I paused for a moment, remembering that wishes from the spirit world are never what they are cracked up to be, so I instead responded, "May I serve you a cup of tea?" After a brief moment of silence, the Yuurei began to walk out of my room and I followed him into the kitchen area where there were three chairs and a table. I turned toward the Yuurei as I entered the kitchen.
"Since it is rather late in the evening, I will serve you Houjicha." I then began preparing the hot water on the stove. Houjicha is a very light baked tea leaf that has minimal caffeine and is a popular tea for the evening. I hoped it would be acceptable to the Yuurei guest.
I could feel the Yuurei watching me make the tea as he sat in the chair farthest from the kitchen, closer to the bedroom. I brought my small green tea set out, filled it with the now piping hot boiled water and added the tea leaves. I set the tea on the table and began to serve my ghostly guest.
The Yuurei politely took the tea and began to drink. "What would you wish of me?" he began again.
I thought for a moment and decided it would be better for me to treat the Yuurei as a guest and play the part of the gracious hostess, rather than truly answer what my wish would be.
"You are guest in my house. I could not make a wish from a guest in my house. What would you wish of me as my guest?"


The Yuurei paused for a short moment and then asked me, "Will you come with me to the forest?" I was taken aback by the question, and finally my fear began to kick in. I was fearful what would await me on the way to the forest or even in the forest itself. Still being the polite hostess, I answered him.
"Well, you see, it is late now. I would have no protection against the things that wander in the night. I am afraid that the outside night can be a little scary for me alone."


This somehow seemed to make the Yuurei sit upright, as though he were surprised. He then smiled at me and said, "Well then, in gratitude to my hostess, I will grant you that wish. You will have protection in the night from this night forward."
A little frightened and worried since I did not intend that to come across as a wish; I thanked the Yuurei for his thoughtfulness, but insisted he did not need to be so generous since he was a guest. What he said next though, truly caught my curiosity.
"There are children of the wilderness that I know well. They will always watch after you, in the night or in the day. They can sense when you need them. This is not my gift to you, but their gift to you. I am as a father to them."
My curiosity overcame my fear and after finishing our tea, I grabbed my coat and accompanied the Yuurei outside. We walked a short ways and suddenly I felt a shiver of cold overwhelm me. The fear tingled all the way through my spine and made me want to run back to the house as quickly as possible. Suddenly, I was approached by a fox-like animal that was a little taller than my knees.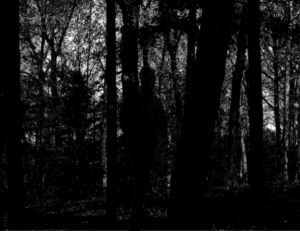 Surprised by being approached for the first time by a wild animal of this size, I stopped for a moment. The fox seemed unafraid of me and looked right into my eyes. I turned toward the Yuurei and he slightly bowed his head at me, as though telling me the fox was his gift. I continued to walk and the fox walked alongside me.
We were nearing the forest and I began to fear again what awaited me within the shadows of the trees. In that moment, two tanuki that looked like raccoons approached me. I began to realize these must be the children of the wilderness of which the Yuurei spoke. I felt less alone with the tanuki and fox on either side of me and continued into the forest.
It was pitch black as I entered. It was like walking into a dense fog or mist without seeing anything in front of me. Anyone with instincts would think to turn away from darkness like this, but somehow I felt safe and unafraid.
There was a small glowing object deep into the forest. The Yuurei was clearly walking towards it. The animals clamored next to my legs, stopping me from walking for a moment. I could not tell why until I took another step and noticed the ground was much lower and I would have tripped and fallen.
Walking at pace with the Yuurei, the glowing object became larger as I approached it. Finally I reached it and could see that it was a small shrine with fireflies floating around it. Atop the shrine was a small, chipped tea cup similar to the ones I had just served at my table. The Yuurei turned towards me.
"Do you remember when you came here?" the Yuurei asked.
"I have not been here before." I answered in a low voice almost speaking to myself.
"You came here once before and offered me tea, yet you did not make a wish. I would like to hear your wish."
Unsure how a teacup similar to mine made it all the way out into the forest, I decided to inspect it. I picked up the teacup and suddenly felt a chill down my spine. I could see that the teacup perfectly matched the ones in my set, yet I was sure I was not missing any cups.
"I don't understand how this got here. I don't even remember leaving it here." I continued to inspect the teacup. "When did this get here?"
"You brought it to me when you were alive, but I was unable to ask your wish before your death."
The air escaped my body just as the teacup crashed against the shrine after my hands lost their grip. I stared into the Yuurei's face in utter disbelief and raced back to the house. Shaking and frightened at the impossible idea of my being a ghost, I raced inside the house only to find myself lying on the kitchen floor with the tea leaves and cold water scattered on the ground.
---
Read other popular ghost stories by Deborah Amar, including The Whaley House – A Frightful Tale Based on True Events